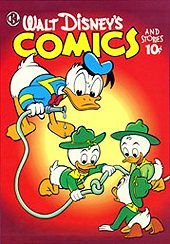 The Carl Barks Library was a five-year project to reprint all the stories and art by Carl Barks. Published by Another Rainbow, ten sets were produced from 1983 to 1989, each of comprising of three hardbound 23 x 31 cm volumes in a sturdy and colorful slipcase. Most of the stories in the volumes are in black and white, as Barks originally drew them, with the covers to the original comics reproduced in full color. Also included are in-depth articles and commentary on the stories, plus unpublished Barks art.
Country: USA
Publisher: Another Rainbow
Date: 1983-1989
Issues: 10
Ad blocker interference detected!
Wikia is a free-to-use site that makes money from advertising. We have a modified experience for viewers using ad blockers

Wikia is not accessible if you've made further modifications. Remove the custom ad blocker rule(s) and the page will load as expected.