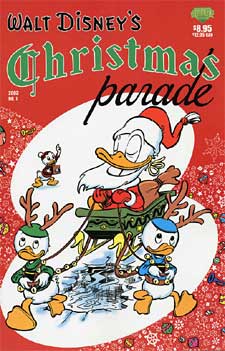 Celebrate the holidays with the magic of Disney! -- This edition combines the best of three original issues of the Christmas Parade, including a cover by the legendary Walt Kelly, along with "Letter to Santa," a Donald Duck classic by Carl Barks, both from Christmas Parade #1 (1949). A Chip 'N' Dale and Donald story from CP #2 and "Minnie's Christmas Tree," a Mickey Mouse yuletide yarn from CP #3 complete the vintage tales in the book, but that's not all! Also included are three new Disney stories: Grandma Duck and Gus Goose in "A Grandma Christmas," Mickey Mouse in "Which-Way Winter," and Donald Duck in "Tis the Season."
Country: USA
Publisher: Golden Press
Date: 1977
Pages: 228
ISBN: # 0-307-11191-1
| | | | |
| --- | --- | --- | --- |
| Christmas In Duckburg | Donald and nephews must transport huge Christmas tree from Canada to Duckburg | | |
| The Generous Pup | | | |
| The Missing Package Puzzle | Bad Wolf helps secretly Lil Bad Wolf delivering packages for Christmas | | |
| Diamond Dust Dilemma | The Old Hag freezes Snow White and demands diamond dust to release her. | | |
Ad blocker interference detected!
Wikia is a free-to-use site that makes money from advertising. We have a modified experience for viewers using ad blockers

Wikia is not accessible if you've made further modifications. Remove the custom ad blocker rule(s) and the page will load as expected.