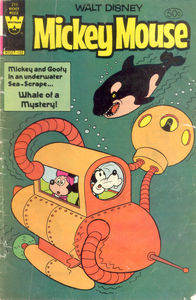 Mickey Mouse (Gold Key) is the Mickey Mouse comic book series from Gold Key Comics. It ran for 134 issues, numbered 85 through 218, from Nov 62 - 1984. During this time, the company began listing the title on the cover as "Mickey Mouse and ..." (insert name), although the numbering sequence followed the Mickey Mouse comics. Both Gold Key and Whitman imprints were used.
Issues
85 - 100
101 - 150
151 - 200
201 - 218
Ad blocker interference detected!
Wikia is a free-to-use site that makes money from advertising. We have a modified experience for viewers using ad blockers

Wikia is not accessible if you've made further modifications. Remove the custom ad blocker rule(s) and the page will load as expected.