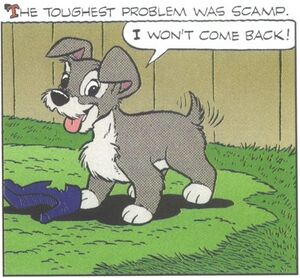 Scamp is the male pup of Lady and the Tramp. He has triplet sisters, Ruffles, Fluffy and Scooter. This was also true in the "Little Golden Book" storybooks. Darling was also given the name of Elizabeth and the baby had become a talking toddler named Albert. On occasion the animation studios have actual names listed for characters, but these names never make it into the actual final edit and the characters remain nameless on screen, but a record of the name does exist and is often transferred to the comics. Such is definitely the case with Scamp. In the movie when Lady and Tramp are expressing their love they come across some wet cement where two human lovers had scratched their initials: J.M. + E.D., which could be "Jim & Elizabeth" since their last names are not revealed in the film or the comics). Scamp has appeared with many Disney characters outside of those who were a part of the cast of "Lady and the Tramp." Scamp even became the superhero, Super Scamp, after eating one of Goofy's super goobers.
Ad blocker interference detected!
Wikia is a free-to-use site that makes money from advertising. We have a modified experience for viewers using ad blockers

Wikia is not accessible if you've made further modifications. Remove the custom ad blocker rule(s) and the page will load as expected.