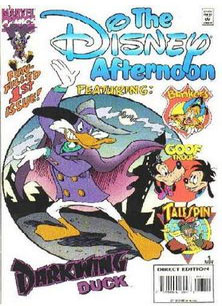 The Disney Afternoon is a comic book series published by Marvel Comics. A total of ten issues were published in 1994 and 1995 in the United States. The series featured short stories starring characters from Disney's animated TV shows, such as Darkwing Duck and Goof Troop. The last two pages in each issue were dedicated to a letter's column titled "The Marvelous world of Disney", and a small previous of next month's titles.
Publisher: Marvel
Publication Date: November 1994 - August 1995
Country: United States
Language: English
Ad blocker interference detected!
Wikia is a free-to-use site that makes money from advertising. We have a modified experience for viewers using ad blockers

Wikia is not accessible if you've made further modifications. Remove the custom ad blocker rule(s) and the page will load as expected.